Our Mission
The mission of Arts For Kids, Inc. (AFK) is to contribute to the overall success of each individual through meaningful learning opportunities in the arts regardless of age, economic status, and developmental and/or physical disabilities. AFK believes that all individuals can benefit from lifelong exposure to the beauty and power of the arts by sharing the gifts of teaching, creating and performing. We believe the arts play a vital role in our communities social, emotional, physical, and mental development, Arts for Kids, Inc. was created to address these fundamental needs, which drives our organizational vision of providing high quality and culturally diverse arts education programming that is accessible to all. This has been the mission of the AFK board of directors since its inception.
Diversity, Equity, and Inclusion
Arts for Kids Inc. statement of Diversity, Equity, and Inclusion (DEI) is an essential set of values that drives our core mission and vision. Arts For Kids Inc believes DEI should be reflected in both our leadership and community, and we are committed to providing a culturally diverse work environment to address existing and emerging social issues. We believe that the very concept of DEI offers a valuable range of experiences, perspectives and opportunities, which is the essential catalyst that will allow our organization to achieve its highest potential.
Our Vision
We believe that AFK will become a catalyst for connecting children and families with cultural arts resources. Our vision is to create a community in which each and every child and family, regardless of income, learns to regard all art forms as an integral part of everyday life and learning while growing to become stewards of the arts and artistic resources.
Our History
Founded in 2000 by two internationally recognized professional artists, Vincent and Karen Ector, AFK is a not-for-profit arts organization that provides arts-in-education programs to many communities throughout New Jersey and New York. We offer artist residency programs, both in-school and afterschool, performance assemblies, and parent and teacher development training workshops that help integrate the arts into standard-based classroom curriculum, while creating alternative approaches to teaching and learning that foster multi-cultural awareness and are inclusive of students with disabilities. Our educational programs and assemblies have been presented in numerous schools, community centers, libraries, and museums, as well as in public areas throughout the state of NJ and beyond. Since AFK's inception, we have served over 250,000 individuals.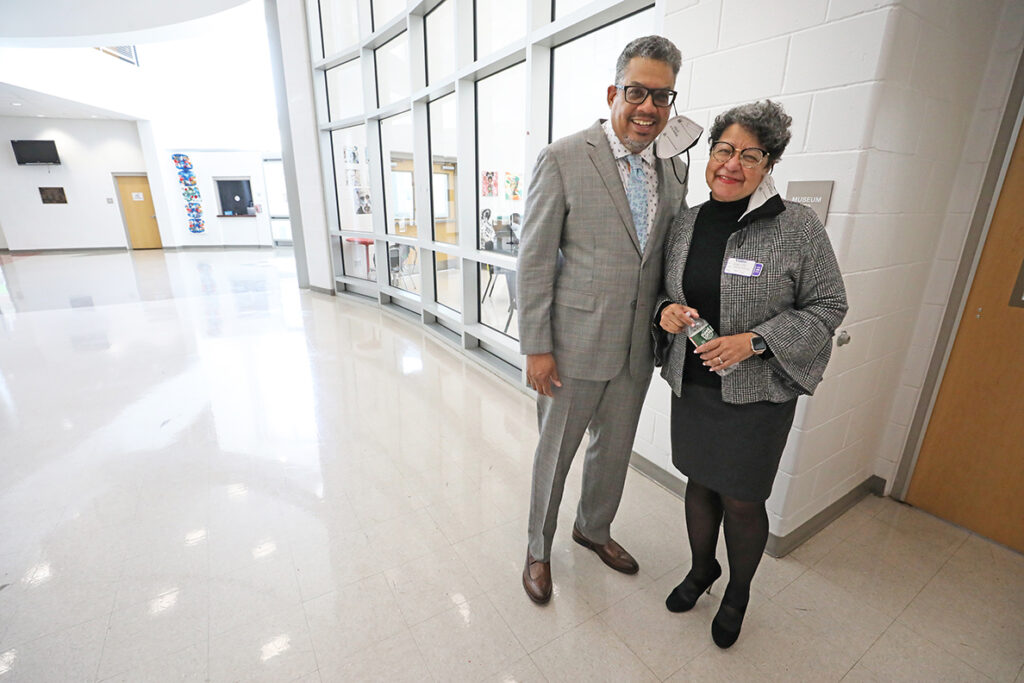 Our Founders
Vincent B. Ector
Executive Director, Professional Musician and Educator
www.vincentector.com
Mr. Ector is featured on over 40 International musical recordings. He performs regularly at jazz festivals and on television around the world. Mr Ector is a former United States Army Bandsman with over thirty years of musical experience. Mr. Ector is a sought after teaching artist in the NYC/NJ public school systems with extensive special needs experience. He holds a BM in Music Management/Jazz Performance and is currently Lecturer of Jazz Percussion at Princeton University.
Karen Ector
Artistic Director, Professional Vocalist, Actress and Educator
Ms. Ector's credits include performances at The Edinburgh Theatre in Scotland as well as performances throughout Europe and the U.S. Karen is an Orff certified teacher who is also an artist-in residence in the NYC public school system, as well traveling throughout the United States as a children's theatre performance artist. She holds a MPA degree from Kean University and is an Adjunct Professor of Early Childhood Education.